Preparing for a Bathroom Renovation?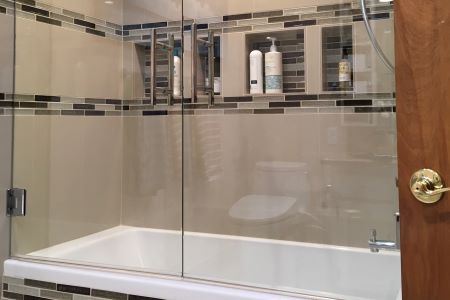 Cross Home Construction understands the need for quality materials, excellent workmanship, and complete customer satisfaction. It's very important to us that your bathroom suits your needs. Whether you're planning for your future accessibility needs or you want to add value to a home you plan to sell, there are plenty of excellent reasons for a bathroom remodel.
Common bathroom upgrades have to do with efficient water usage. Older toilets, showers, and sinks were not built with water efficiency in mind. With a bathroom remodeling project, you can replace those old fixtures with new and more water-smart ones.
Toilets manufactured before 1992 could use several gallons of water per flush! However, modern toilets use around 1.5 gallons or less. Older showers tend to use more water as well. Low-flow showerheads use 2 or fewer gallons of water per minute, against the 5 or more used by older showers. As you can imagine, upgrading your bathroom could easily result in a lower water bill.
Shower Renovation and Tub Replacement
Accessibility is another big reason to change up your current bathroom layout. Low-entry tubs and showers are a useful addition for many homeowners with limited mobility. It's an easy way to make your bathroom safer. Even if you don't need these accommodations, a change in bathtub style or a new shower can do wonders for your space. You really can't go wrong building yourself a more comfortable bathroom.
Of course, new plumbing fixtures don't just have to be about utility. Your custom shower or bathtub can also add a lot of personality and style to the whole room. Consider a drop-in tub if your current bathtub isn't deep enough for your liking. If you have the extra space, you might go for the elegant look of a freestanding tub. Even a simple shower or shower/tub combo can shine with a new tile surround.
New Bathroom Tile, Countertops, and Flooring
Maybe you don't want to change up your bathroom's entire floor plan or plumbing fixtures but still want to refresh its look. You're in luck! The team at Cross Home Construction will handle painting, replacement bathroom tile, new countertops, and flooring as well. We want to help you make your home the best it can be, and that means paying attention to the smaller details too. Even something as simple as a new color palette can do a lot for the room's overall look and feel.
It doesn't need to be a complete bathroom remodel or any significant change to your bathroom floor plan; our team is ready for a wide range of remodeling services, from basic bathroom updates to full overhauls. Feel free to give us a call if you aren't sure; chances are, we'll be able to help! Your dream bathroom is just around the corner.
Dependable Bathroom Remodeling Contractor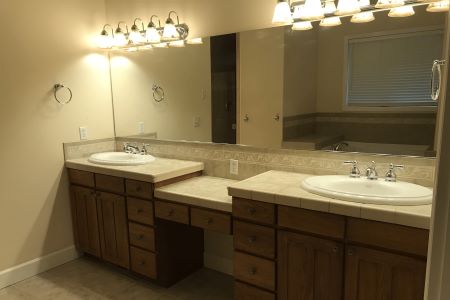 Planning to remodel your bathroom can be a daunting experience, especially if you want a major overhaul. The team at Cross Home Construction is dedicated to making our neighbors' homes the best they can be; that's why we'll take on your home construction job, no matter the scale. No job is too big — just call us, and we'll get started on the bathroom remodeling process.
We stand by our quality craftsmanship with a one-year satisfaction guarantee. This is more than a warranty; during the year following our work, you'll hear from us a couple of times. We like to check in with our clients after the job's done. You can't truly know whether your remodeled space until you've had some time to live in it, so we make sure you have that time. If anything goes wrong, count on us to make it right.
Give us a call today to get started!