Considering a Kitchen Renovation?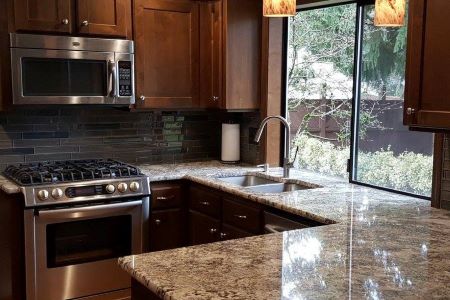 Whether your current kitchen isn't meeting your accessibility needs or it's simply not very "you," there's really no such thing as a bad reason for a kitchen overhaul. You spend a lot of time in your kitchen, so it makes a lot of sense to build it to suit your tastes. If you're planning to sell your home, a complete kitchen makeover can do a lot for its overall value — while increasing its appeal to a potential buyer.
Any successful kitchen remodel starts with calling a reliable remodeling contractor. If you're in the Battle Ground WA area, you're in luck; Cross Home Construction has provided the best remodeling services around for the past 15 years. When you put your home in our hands, you can rest assured that you're getting the ideal combination of quality craftsmanship and dedicated customer service. From the design stage through the final cleanup, our team of remodeling contractors will keep in touch with you to make sure everyone is on the same page at all times.
Kitchen Countertops, Cabinets, and More
Even if a complete kitchen remodel isn't in your plans, we can still help you refresh your current one with custom kitchen cabinets or beautiful countertops. Maybe you want to upgrade from laminate countertops to a more durable granite or quartz. Or add an accent color with a new kitchen backsplash. From custom cabinets to a completely new floor plan — you name it, our team probably does it. For instance, have you ever considered adding a custom kitchen island? Whether it's a new food prep surface or extra seating, it can be a very inviting addition.
We'll even handle appliance installation, so you can upgrade your kitchen without drastically changing your kitchen floor plan. Increase your energy efficiency or put in that new stove you've been planning for — whatever you have in mind, we'll help you make it a reality. If you aren't sure whether we can provide the service you want, don't hesitate to ask; our fully licensed, bonded, and insured team finds no job too big to take on.
New Kitchen Flooring Installation
Want to replace your current kitchen tile or laminate flooring? Cross Home Construction can help. It doesn't take a complete overhaul to freshen up your kitchen. You'd be surprised how much of a difference you can make with a new type of flooring. Stick to basics with beautiful hardwood or go for a bit of flair with patterned vinyl — whether you're looking for something practical or something more eye-catching and fun, we'll make it happen.
No matter the scale of your personal project, from complete kitchen remodeling to a simple touch-up of your cabinets, we're on the job. Our team is passionate about helping our neighbors make their homes match their vision exactly; just bring us your ideas, and we'll do the rest.
Your First-Choice Kitchen Remodeling Experts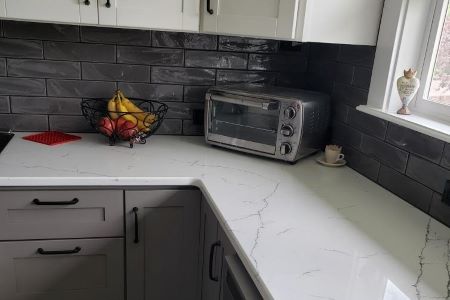 The team at Cross Home Construction would be delighted to help you build your dream kitchen. No matter the scale of your kitchen remodeling project — whether a simple coat of paint or a full renovation — we're ready to take it on. With decades of experience and a dedication to quality craftsmanship and customer care, you can count on us to make your kitchen overhaul a reality.
Our work comes with a one-year warranty, during which we'll touch base with you a few times to make sure everything turned out the way you envisioned. Complete customer satisfaction is key in our work, which is why we treat everyone's homes the way we'd want ours treated. If you're ready to get started on your kitchen remodel, give us a call today!