Outdoor Kitchen and Patio Services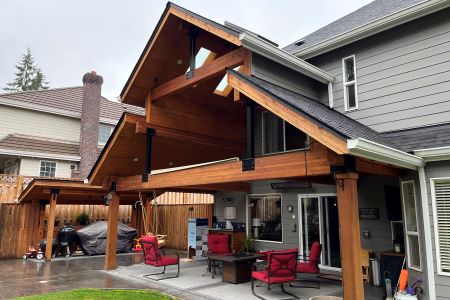 If you love to cook and you love being outside, you've probably considered building an outdoor kitchen in your yard. Whether you're entertaining guests or having a family dinner in the backyard, an outdoor kitchen is a great way to bring the whole group together. Outdoor kitchens are a luxury that more people should experience — and with help from Cross Home Construction, it may be closer at hand than you think.
Your custom outdoor living space should perfectly reflect your personality, tastes, and interests. The remodeling contractors at Cross Home Construction will work with you to create the perfect space for you and your friends and family to enjoy. Entertain the whole neighborhood or cook a date-night dinner under the stars; the sky's the limit. No matter what scale you have in mind, we'll help you turn your backyard into the entertaining space you've always imagined.
Pergolas and Patio Covers
Whether your current patio cover is old or just not your style, you might want to replace it. Or maybe your patio doesn't currently have a cover. Or maybe you don't currently have a patio at all! Whatever the case, Cross Home Construction can help you create the outdoor living space you've always dreamed of. If you can think of anything to make your outdoor experience more comfortable and inviting, we're ready to help you make it a reality!
Patio covers and pergolas perfectly complement an outdoor kitchen area. Cook away whatever the weather, and keep yourself and your guests dry in the rain. Wherever you're starting from, no matter your project type, our team is ready to tackle it. Whether you know exactly where you want everything to go or you'd like some professional input, we're ready to help with a wide variety of indoor and outdoor remodeling project types.
Outdoor BBQ Pits and More
Maybe you aren't looking for a full outdoor kitchen — consider a fire pit instead. It's a cozy way to liven up your outdoor space and bring people together for a casual meal. Who doesn't love a warm summer evening around a campfire? Replicate that feeling from your own backyard and prep food over an open flame for an authentic smoky flavor, or simply keep yourself warm as the night gets cooler.
Outdoor bar areas are another aspect of outdoor living that our team will be happy to install for you. These entertaining spaces are bound to enhance your outdoor living experience and keep the party going. Our team can build you a beautiful space that fits your landscape design or stands out as a statement piece.
Bring Your Outdoor Entertainment Area to the Next Level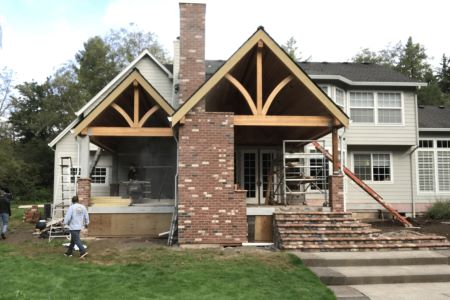 Quality workmanship and customer service are absolutely vital to our team. Our happy customers have built our business, allowing us to keep helping people make their homes better. That's why we back our work with a yearlong satisfaction guarantee. This is more than a warranty; we want to make sure you're perfectly happy with your new space, and the best way to do that is to give you time with it. Three months into your warranty, we'll check in to make sure everything meets your needs. At eleven months, we'll do another full walkthrough inspection of the area to make sure this is still the case.
Cross Home Construction provides a variety of construction services to homeowners in Camas, WA and the surrounding areas. If you aren't sure we offer the service you need, feel free to ask; chances are, we do! We can help your home look better than ever, inside and out.
Give us a call to get the process started! We look forward to working with you.