Remodeling your home can be an exciting endeavor, but it also comes with its fair share of challenges. One of the most critical decisions you'll make during the process is choosing the right remodeling contractor. The contractor you select will play a significant role in the success of your project, so it's essential to conduct thorough research before making a decision. In this blog post, we'll explore the key factors you should look for in a remodeling contractor to ensure a smooth and successful renovation journey.
Experience and Expertise
When evaluating potential remodeling contractors, their experience and expertise should be at the top of your list. An experienced contractor brings valuable insights and skills to the table, having faced various challenges and projects over the years. Look for a contractor with a solid track record of successful renovations, as this demonstrates their ability to deliver high-quality work.
It's also important to consider the contractor's area of expertise. Some contractors may specialize in kitchen renovations, while others might excel in bathroom makeovers or whole-house remodels. Choose a contractor whose expertise aligns with the type of remodeling project you have in mind, as this ensures they have the necessary know-how to bring your vision to life.
Licenses and Insurance
Reputable remodeling contractors should hold the necessary licenses and certifications required by local and state authorities. These licenses indicate that the contractor meets industry standards and complies with safety regulations. Furthermore, ask the contractor for proof of insurance, including general liability and worker's compensation coverage. Insurance protects you from any potential liability in case of accidents or property damage during the remodeling process.
References and Portfolio
A reliable remodeling contractor should have a portfolio of completed projects and a list of references that you can contact for feedback. Take the time to review their past work to gauge the quality of their craftsmanship and design skills. Speaking with previous clients will provide valuable insights into the contractor's communication, reliability, and ability to meet deadlines.
Communication and Transparency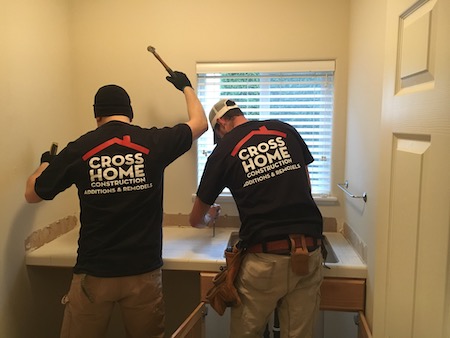 Clear communication is essential for a successful remodeling project. Look for a contractor who is responsive to your inquiries, listens to your ideas, and communicates openly about the project timeline, budget, and any potential challenges that may arise.
Transparency is equally important. The contractor should be upfront about costs, potential delays, and any changes that need to be made during the renovation process. A trustworthy contractor will provide a detailed contract that outlines the scope of work, payment terms, and any warranties or guarantees.
Local Reputation
A remodeling contractor's local reputation can speak volumes about their reliability and the quality of their work. Research online reviews and testimonials from previous customers to gauge their satisfaction levels. Check with local trade associations or the Better Business Bureau to see if there have been any complaints filed against the contractor.
Additionally, seek recommendations from friends, family, or neighbors who have recently completed home renovations. Word-of-mouth referrals are often a reliable source of information about a contractor's performance.
Time Management
Timely completion of your remodeling project is crucial, especially if you have a specific deadline or event in mind. A reputable contractor will provide a realistic timeline for your project and strive to adhere to it. Delays can be costly and frustrating, so ensure the contractor has a reputation for delivering projects on time.
Quality of Materials
The materials used in your home remodeling project can significantly impact its longevity and overall aesthetic appeal. A reliable contractor will work with reputable suppliers and use high-quality materials that fit your budget and preferences. Be cautious of contractors who propose significantly cheaper materials, as they may compromise on quality and durability.
Conclusion
Choosing the right remodeling contractor is a critical step toward achieving your dream home. By considering factors such as experience, licenses, references, communication, local reputation, time management, and material quality, you can make an informed decision. Investing time in selecting a reputable and skilled contractor will pay off in the form of a beautifully transformed living space that exceeds your expectations. So, take your time, do your research, and embark on your remodeling journey with confidence.
Your Local Remodeling Contractor
Cross Home Construction is a family-owned business dedicated to delivering high-quality residential remodeling services. With a strong focus on customer satisfaction, our experienced team is committed to making your home the most comfortable and inviting space possible. Whether you're looking for a complete overhaul or just a few updates, we'll bring your ideas to life with creativity and expertise. Trust us to transform your house into your dream home, as we treat every project with the care and attention we would give to our own homes. With a 1-year warranty on every renovation project and regular follow-ups, we ensure that you're delighted with the final results. Let us take care of your renovation needs, and together, we'll make your home better than ever before. Contact us today for a free quote!